Fort Myers Tops in Nation for Inbound Migration
Posted by Mark Washburn on Monday, October 17, 2016 at 3:18:42 PM
By Mark Washburn / October 17, 2016
Comment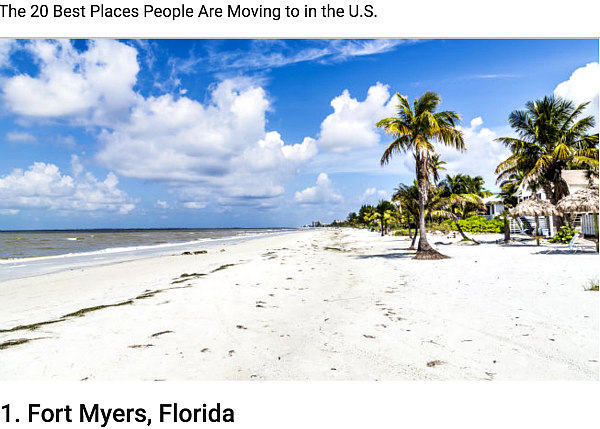 Fort Myers is tops again, this time when it comes to inbound migration. According to US News and World Report,
Fort Myers
takes the number one spot for the "20 Best Places People are Moving to" in the nation. Between the years 2010 and 2014 the area saw a nearly 9.4-percent growth in population. Even so, Fort Myers is smaller than other metro areas listed in the report, with a little less than 650,000 residents that call the area home. The report focused on the cities where people are choosing to live, examining population growth marked by net migration in the nation's 100 largest metros. The cities where then ranked based on the numbers of those people relocating and the numbers moving away. Along with
Fort Myers
, Lee County also ranks as having one of the fastest-growing populations based on estimates from the US Census Bureau. Lee County gained more than 18,000 new residents between July 2013 and July 2014. At 2.7-percent, it was the country's sixth-largest increase. While both Lee County and nearby Collier County regularly measured on lists of the nation's fastest growing areas in the 90s and early 2000s, the housing market collapse took its toll on much of Southwest Florida. Recent population numbers, however, lead some to speculate that more and more people feel secure enough with the current economy to retire or relocate to the Fort Myers area. US News & World Report details that Fort Myers also gained a ranking of 38 when it comes to "Best Places to Live 2016". Noted as a desirable location for retirees, the median age of Fort Myers residents is more than 46. The city was additionally mentioned as having a median home price of just over $201,000, while residents make a median annual salary of nearly $39,000.