Fort Myers REO Listings Popular
Posted by Mark Washburn on Thursday, October 30, 2008 at 11:59 AM
By Mark Washburn / October 30, 2008
Comment
I was just reviewing stats for my web site,
www.greaterftmyers.com
to see what pages buyers have been looking at over the last 30 days. As has been the case for the past several quarters,
Fort Myers foreclosures
, Fort Myers short sales,
Cape Coral foreclosures
and Cape Coral short sales topped the list.
There certainly is much buyer interest and enthusiasm for REO properties in the Fort Myers area!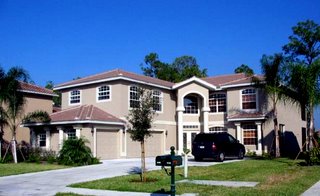 One very popular page over the last 30 days was for this listing in the Gateway neighborhood of Stoneybrook, located at
12393 Green Stone Ct Fort Myers, FL
. It is a 5 BR, 3 BA, 3,995 SF two-story home built in 2005. This home, which is owned by Wells Fargo Bank, originally sold for $445,000 in 2005 and is now listed at $345,750.
This is a beautiful home, although I am a bit puzzled as to why it is attracting hundreds of page views. If you are the interested party, please drop me a note and we can put a deal together for you!