Fort Myers Homes Sold For 94% of Asking in 2012
Posted by Mark Washburn on Friday, January 18, 2013 at 12:31:58 PM
By Mark Washburn / January 18, 2013
Comment
I wish that I had a dollar for every time that I get asked, what will the owner take for that property?  I usually pause, rub my hands over my virtual crystal ball and proclaim once again that over the last three years over 50,000 properties have sold in Lee County and the average selling price is 94% of asking price. Here are the Fort Myers area market statistics for 2012: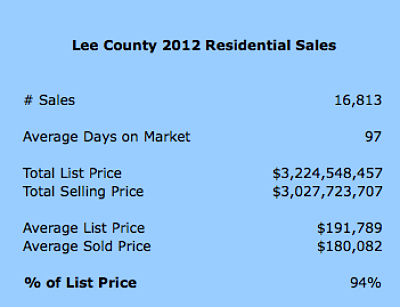 In 2012, 16,813 residential properties sold in Lee County for a total of $3.03B in sales.  The average listing price was $191,789 and the average selling price was $180,082.  This represents an average selling price to listing price ratio of 94%.  This average selling to listing ratio of 94% remains unchanged from
2011
,
2010
and
2009
in Lee County and is an excellent barometer for buyers to keep in mind when making an offer. Here is a resource to facilitate your search for a new
Fort Myers home
.