Fort Myers Homes Sold For 94% of Asking in 2010
Posted by Mark Washburn on Monday, January 3, 2011 at 7:34:32 PM
By Mark Washburn / January 3, 2011
Comment
One of the most common questions buyers ask is
will the bank sell me this home or condo for 50% of asking price?
The answer is no they won't, as the standard for these transactions in Southwest Florida is for the bank to list the home at a price close to what they are expecting to sell it for.  The proof is in the details: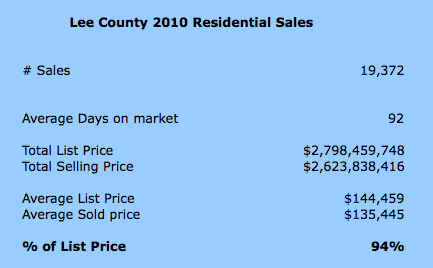 In 2010, 19,372 residential properties sold in Lee County for a total of $2.6B in sales.  The average listing price was $144,459 and the average selling price was $135,445.  This represents an average selling price to listing price ratio of 94%.  This average selling to listing ratio of 94% remains unchanged from 2009 in Lee County and is an excellent barometer for buyers to keep in mind when making an offer. Anyone who tells you that banks are accepting offers at 50% of asking price is just not dealing in reality.  If you are interested in finding a discounted home in Southwest Florida, here is a resource to search for
Fort Myers area foreclosures
.