Fort Myers Foreclosures
Posted by Mark Washburn on Tuesday, July 1, 2008 at 9:34 PM
By Mark Washburn / July 1, 2008
Comment
Even the wealthy are not imune from the growing wave of foreclosure activity.
Business Week
touches on some high profile celebrity foreclosures including Evander Holyfield, Jose Canseco and Ed McMahon. I am sure everyone will sleep better tonight knowing that Michael Jackson was saved from foreclosure on the Neverland Ranch because distressed debt investor Tom Barrack bought the $24 million loan.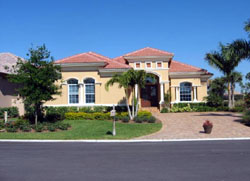 Locally, the pricest bank-owned property is a home in the upscale
Shadow Wood Preserve
community listed for
$699,000
. This home sold for $1.53M back in 2006. Shadow Wood Preserve is a 440-acre gated golfing community of 300 homes ranging in price from $206,900 to $1.59M. Shadow Wood Preserve is located in Fort Myers on US 41, 2 miles south of Alico Road.
At the other end of the spectrum is a bank-owned home in the
School View Homes Subdivision
off Martin Luther King Blvd listed for $15,000.
It's Not Just Ed McMahon
[Business Week]