Florida population growth
Posted by Mark Washburn on Thursday, November 3, 2005 at 1:12 PM
By Mark Washburn / November 3, 2005
Comment
Near record growth continues in Sunshine State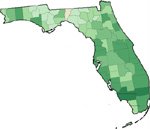 Despite threats from people in storm-ravaged areas to move away, new University of Florida (UF) research shows that the devastating 2004 hurricane season had little or no effect on Florida's 2004-2005 population growth.

"Florida's population grew by more than 400,000 last year," says Stanley Smith, director of UF's Bureau of Economic and Business Research. "This is one of the largest increases in Florida's history."

The Bureau bases its population estimates on building permit and electric customer data, combined with data from the 2000 Census. This year it supplemented its data by conducting 11,560 telephone interviews with residents in the 13 counties most heavily affected by the hurricanes.
Florida grows at near-record pace [Planet Realtor]