Festival Park Coming to Cape Coral
Posted by Mark Washburn on Friday, July 19, 2019 at 8:22:29 AM
By Mark Washburn / July 19, 2019
Comment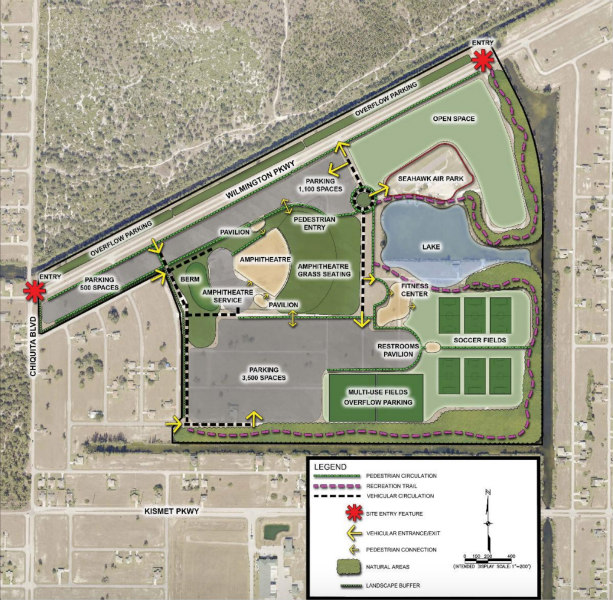 A new amphitheater, rec center, walking trails and sports fields are headed to Cape Coral. It's all part of Cape Coral's new Festival Park, planned for construction between Nelson Road and Chiquita Boulevard, Kismet and Wilmington Parkways in Northwest Cape Coral.
Local voters gave some of the financial support needed last year by approving a $60 million bond. Some of that bond money is helping purchase land needed for the future park. In all, leaders estimate it will take more than $98 million to finish the city's new park.
It's already taken 15 years for proponents of the project to gain access to the more than 200-acres needed to construct the park. The process is made even more daunting by the city's pre-platted design, which makes it more difficult to piece together a large amount of land in one single location.
The area slated for the park is a more rural portion of Cape Coral. Previously, the city gained some of the land needed for the park through eminent domain of properties, then voluntarily purchased more of the land as it became available.
Conceptual plans call for building a park amphitheatre, soccer fields, multi-use fields and a fitness center. Plans also call for a pavilion, thousands of parking spaces and a recreational trail. The amphitheater alone would bring a major new venue to the city, something it currently lacks and is becoming more noticeable as the city continues to grow substantially in its population.
Plans call for the park to open to the pubic in 2023, but first city leaders want to hear from local residents. They'll be taking in public input soon, with more on the park's design expected to be released next year. The final design could vary from the conceptual plans as the community gives its input and engineers further evaluate the property.