Explore Cayo Costa
Posted by Mark Washburn on Friday, March 15, 2019 at 5:32:34 PM
By Mark Washburn / March 15, 2019
Comment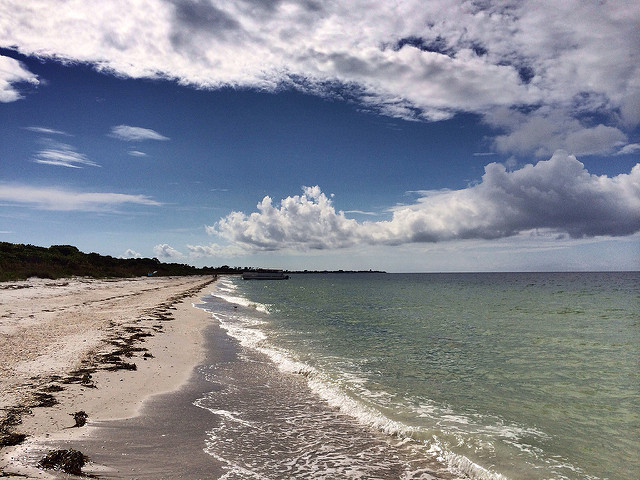 You won't find modern conveniences like cars, paved roads or even standard electric service on Cayo Costa Island, but you will find a spectacular and pristine setting. This barrier island sits just to the west of Bokeelia, yet feels more secluded than other parts of Southwest Florida. That's likely because most people only come to this bridgeless island via a ferry, kayak or private boat. Once you get there it's common to use a tram to visit the beach or a nearby campground.
You'll find very little "development" on the island, for much of the nearly 3,000-acre, nine-mile-long island belongs to Cayo Costa State Park. For those who do want to explore Cayo Costa, however, this presents perhaps the biggest attraction of all.
You'll find nature trails and lagoons on the island, including the nearly two-mile long Quarantine Trail. The trail provides the perfect opportunity to view native vegetation.
Cemetery Trail on the island, meanwhile, takes visitors past shell-marked gravesites of some of the island's first settlers and fishing families. If you look closely you may even uncover ancient shell mounds dating back to the Calusa tribe. Other artifacts still on the island include shell casings left over from target practice during World War II.
The northern edge of the trail is a great spot for fishing or for spotting passing dolphins and manatees. The two lagoons present a home for large alligators, turtles, snakes and other island wildlife. For those who enjoy birding, around 200 species have been spotted on the island.
While there are around two-dozen private homes and cabins on the island, you'll also find a small number of primitive campsites for rent. The majority of the protected island remains much the same as it did centuries ago. The nine miles of shoreline is undeveloped to this day, presenting a prime location for shelling, snorkeling or swimming in a pristine environment.