Experts predict slowdown
Posted by Mark Washburn on Wednesday, December 14, 2005 at 10:24 AM
By Mark Washburn / December 14, 2005
Comment
Sharp price declines not anticipated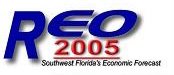 Southwest Florida's housing market is in for a slowdown in 2006 as interest rates and inflation continue to rise.
That's the message Orlando-based economist
Hank Fishkind
presented Tuesday at the 18th annual Regional Economic Conference by the Chamber of Southwest Florida. About 300 people attended the event at the Barbara B. Mann Hall at Edison Community College.
"We're talking about a housing market that's peaked," he said. "There clearly is a housing bubble."
Expert predicts housing slowdown [News-Press]
Economist: Gradual moderation of real estate market likely
[Naples Daily News]