Exile in Eden: Life Among the Ruins of Florida's Great Recession
Posted by Mark Washburn on Sunday, August 29, 2010 at 9:32:15 AM
By Mark Washburn / August 29, 2010
Comment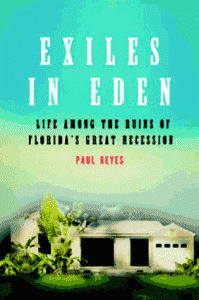 A new book,
Exiles in Eden: Life Aong the Ruins of Florida's Great Recession
, offering an insiders view to the Florida housing crisis is hitting the shelves this week. The Fort Myers area is prominently covered by author Paul Reyes including a look at a mostly abandoned, upscale gated community.  A book about the housing bust would not be complete without an examination of Lehigh Acres, where the authors parents purchased a vacant lot in 1969 on the $10/month plan while honeymooning in Miami. An insiders view of trash-outs, the process of cleaning out a foreclosed property, is covered in great detail.  Underwater mortgagees including one owing $220,000 on an $80,000 home discuss their plight in this book. For those of us operating the in the Southwest Florida real estate market on a daily basis, foreclosures and short sales have become the norm.  Missing appliances, overgrown lawns and green pools are just part of every day life.  For someone just dipping their toe into the foreclosure market for the first time, these conditions can be quite an eye-opener. Exile in Eden is a must read for anyone contemplating the purchase of a
Fort Myers foreclosure
.  The book will help provide some perspective on the perfect storm of conditions that fueled the boom and subsequent housing bust.