Edison found Inspiration in his Florida Estate
Posted by Mark Washburn on Monday, November 18, 2019 at 7:37:27 AM
By Mark Washburn / November 18, 2019
Comment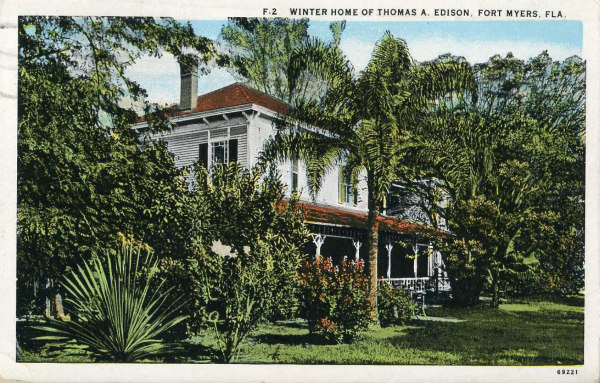 Tied to the region for generations, it's said Thomas Edison found true inspiration in his Florida estate. According to reports, Edison first visited Fort Myers in the late 1800s under doctor's orders to spend the chilly season in a warmer climate.
Although Fort Myers was little more than a cattle town of less than 350 people at the time, it didn't take long before the inventor purchased a home and land for himself alongside the Caloosahatchee River. In fact, some say he'd only been in Fort Myers for a few hours when he started making future plans for the area.
The 14-acre property provided enough room to build a larger home for Edison and his wife, along with other buildings including a working laboratory and a standalone study. The riverfront location also gave Edison the perfect location for fishing in his spare time.
It wasn't long before Edison's friend Henry Ford began visiting. In the coming years Ford built his own home next door.
Another thing that still stands on the property is a banyan tree. First planted as a seedling by Edison himself, the tree is now said to be largest of its kind in the entire continental U.S.
These days you can walk the McGregor Boulevard property with a visit to the Edison and Ford Winter Estates. The homes are open for guided and self-guided tours throughout the year.
Outside in the gardens you can see some of what once inspired Edison to stay in Fort Myers. With more than 1,700 plants growing on the property, you'll find hundreds of species from all around the globe.
You can also see the laboratory where Edison did some of his work and see the Edison Ford Museum, with thousands of artifacts and exhibits on display. You'll even see Edison's 1916 Model T, a one-time birthday gift from none other than his friend, Henry Ford.