Cruising the Okeechobee Waterway
Posted by Mark Washburn on Sunday, March 9, 2014 at 9:28:13 AM
By Mark Washburn / March 9, 2014
Comment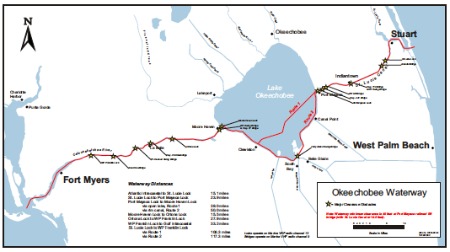 The Okeechobee Waterway (OWW) provides an inside passage across the Florida Peninsula.  It is the only cross-Florida canal and river system that joins the east coast of Florida to the west coast and is a pleasant way for boaters to pass through the heart of Old Florida.  The OWW is 154 miles and stretches from the Atlantic Ocean near Stuart, Florida to the Gulf of Mexico at Fort Myers.  It is considered by many to be the dividing line between Central Florida and South Florida. The OWW follows the St. Lucie River where it enters the St. Lucie Canal, then continues west to Port Mayaca where you can enter Lake Okeechobee.  Lake Okeechobee is the 2nd largest fresh water lake in the U.S.  It eventually enters the Caloosahatchee River passing Fort Myers,
Cape Coral
, San Carlos Bay and finally the Gulf of Mexico.  The OWW provides a more protected route and relaxed pace when the weather offshore gets bad.  The OWW is open to vessel traffic all year and is operated by the U.S. Army Corps of Engineers. In addition to being a commercial waterway, it is a terrific shortcut for cruising boaters to go from the Atlantic to the Gulf without going around the Keys, which saves 206 miles on the trip.  So the Army Corps of Engineers built 5 locks to lift boats from sea level to the lake.  Commercial traffic is light, and the waterways have gentle currents and mild tides. This serene waterway goes through miles of Florida Everglades, making the OWW the only navigable cross Florida Canal.  Many visitors enjoy watching the boats pass through the waterway at the many locks and parks along the route.  Each lock has a recreation area open to the public year round; some of these areas have camping and picnic facilities.  The scenery varies as the passage moves from east to west, and from river to canal.  Here is Fort Myers, residents of the
River District high-rise condos
have direct views of the of the boating traffic on the Caloosahatchee River portion of the OWW.