Sanibel Recognized as Bike-friendly Community
Posted by Mark Washburn on Friday, December 28, 2018 at 2:59:04 PM
By Mark Washburn / December 28, 2018
Comment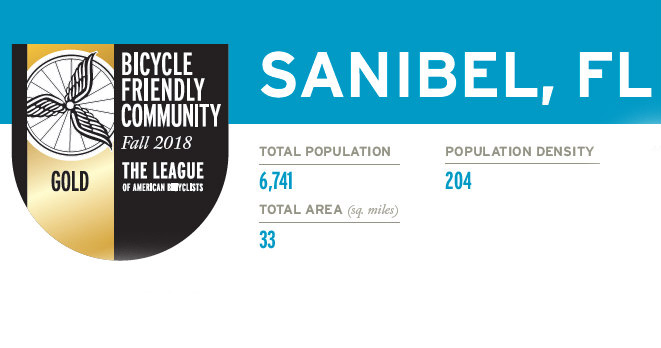 In some of areas of the country you rely on private vehicles or public transportation to get around, but on Sanibel it's just as easy to get around and explore the sites on two wheels. While perhaps better known for its beaches and its seashells, off the sand and water Sanibel Island also offers around 25 miles of bike trails.
The City of Sanibel maintains the trails, enjoyed by locals and visitors alike. The island includes safe bike trails next to most of its roads, and bike trails leading to places where cars can't even drive, much less park. You'll also find plenty of bike racks across the island when you need a rest from one of the well-marked trails.
All of this is likely what figured into Sanibel's new designation as a "Gold Bicycle Friendly Community", as designated by the League of American Bicyclists. Only one other Florida community holds the "Gold" designation. In 2010 Sanibel first gained a "Bronze" award, upgraded to "Silver" four years later.
If you don't have your own bike, you'll find several area businesses that rent out bikes, plus area hotels that offer up bikes to guests. You'll find the longest bike trail running along the island's western side. It leads bicyclists to remote Bowman's Beach and past Ding Darling National Wildlife refuge. It's also free to bike over the Sanibel Causeway.
Along with those who use biking just for occasional fun and recreation, Sanibel is also home to the Sanibel Bicycle Club, now boasting several hundred members. The club works to help promote cycling in the area, plus to advocate for safety and infrastructure improvements that benefit bicyclists.
It also offers a social outlet for those interested in cycling in their spare time. The club takes weekly rides together, plus plans out rides for its members in other South Florida destinations.