Corkscrew Crossing Coming to Estero
Posted by Mark Washburn on Monday, April 30, 2018 at 3:54 PM
By Mark Washburn / April 30, 2018
Comment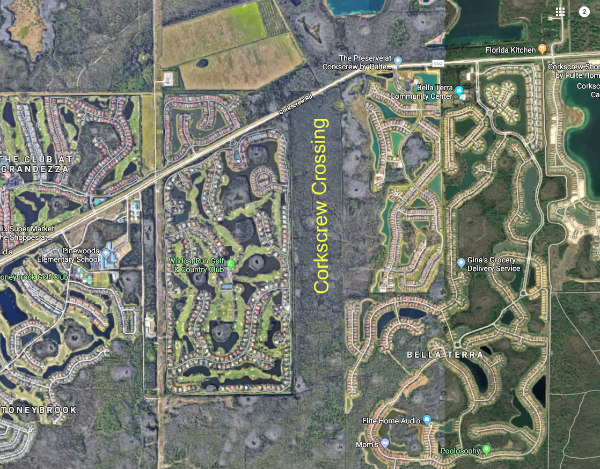 (Corkscrew Crossing is now called RiverCreek)
Hundreds of new construction homes are likely headed to Estero. The new Corkscrew Crossing community is planned to sit on nearly 400-acres of land, found just to the south of Corkscrew Road. That's between the already existing communities of The Preserve at Corkscrew and Wildcat Run.
Plans call for less than half of that land, though, to actually be developed, leaving the rest of the acreage as open space. Recently revised plans call for around 600 eventual residences within Corkscrew Crossing, mostly in single-family designs. That's a bit of a change from past plans which had included more than 700 residences, most of them being multi-family homes.
Currently, plans call for constructing the homes on the property's northern side, putting the residences closest to Corkscrew Road. That leaves most of the rest of the land for preserve space, connecting up with other nearby conservation land including that of Edison Farms, Bella Terra and The Preserve at Corkscrew.
Local residents have expressed concern in recent months about more traffic on Corkscrew Road and about potential storm water issues with a new development in the area. To help combat that, developers have plans to meet with village staff to help address some of those concerns, then come back before the Planning and Zoning Board for a future public hearing down the road.
A few years ago the Estero Village Council passed a resolution that opposed a couple of housing developments in the area, including The Place at Corkscrew, a current new construction community in Estero. At that time some also raised concerns about increased transportation in the area, and the effect of constructing more housing.
It's expected the zoning process for Corkscrew Crossing could take months to complete. However, developers are optimistic it could possibly mean construction of the new community could begin sometime next year.