Cape Coral: The Early Years
Posted by Mark Washburn on Wednesday, March 2, 2016 at 12:27:02 PM
By Mark Washburn / March 2, 2016
Comment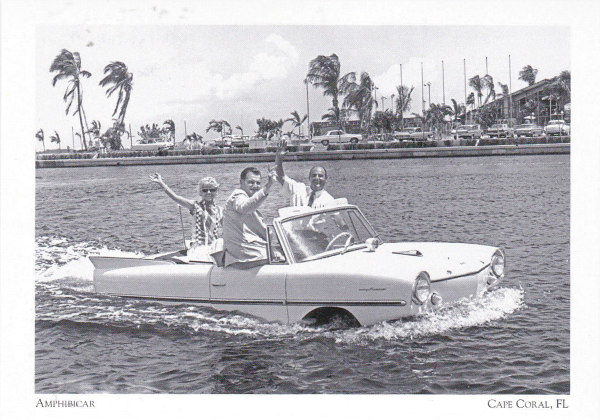 Cape Coral is on the Gulf of Mexico and was developed as a master-planned community in the late 1950s by two entrepreneurial brothers from Baltimore, Jack and Leonard Rosen. Nicknamed the "Waterfront Wonderland," Cape Coral is a city with more than 400 miles of waterways, and more canals (400+) than any city in the world! As the city began development as a pre-planned community, canals were dug, houses constructed, the streets were paved and businesses came. To the delight of boaters, many of these canals have access to the Gulf of Mexico, and most are navigable. Redfish Point on the west bank of the Caloosahatchee River was the first tract of land developed through the early 1960s. A public
yacht club
, a golf course and shopping center sprung up. The construction of the Cape Coral Bridge across the Caloosahatchee River was a major feat that opened in 1964. Before the Cape Coral Bridge was built, it was a 20-mile drive to Fort Myers. Celebrities including Bob Hope and Anita Bryant were brought in to hail the benefits of "the Cape," . Episodes of the TV show "Route 66" were filmed in Cape Coral, as well as a movie, starring comedian Phyllis Diller, "The Fat Spy," in 1966. There were golf tournaments, boat races, beauty pageants, and festivals. Cape Coral became a city and was incorporated in 1970. In the early history of Cape Coral, the Calusa tribe of the Native Americans lived here. The oldest building in Cape Coral was the Ranch House Motel built in 1947, for winter visitors who came to fish on Pine Island Sound. Today, it is the office and chapel for the Coral Ridge Funeral Home. The history of Cape Coral can be viewed through special exhibits at the Cape Coral Museum. By 2015, the city's population was estimated to be over 165,000, making it the largest master-planned community in the United States.
Cape Coral
is now the largest city between Miami and Tampa. Geographically, Cape Coral is a large peninsula bordered by the Caloosahatchee River on the south and east, and Matlacha Pass on the west. The city of
Fort Myers
lies to the east across the Caloosahatchee River. Major roadways in Cape Coral are Cape Coral Parkway, Del Prado Boulevard, and Pine Island Road. Today, the city enjoys many restaurants, retail shops and an assortment of businesses. Cape Coral has plans to improve the
downtown
with greenways, parks, bike paths, restaurants, shops and offices along landscaped canals to attract visitors and businesses to the area. A construction boom in the 1990s brought in more professionals and young families who added to the mix of retired couples and seasonal residents.