Cape Coral rental investments
Posted by Mark Washburn on Friday, April 28, 2006 at 11:51 AM
By Mark Washburn / April 28, 2006
Comment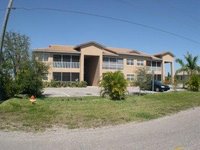 Rents heading upwards
After several years of flat rental rates, expect to collect more rent in the coming months. Across the board shortages of rental units due to condo conversions has created significant shortages of apartments.
National rental expert Greg Willett, vice president for research and analysis at M/PF YieldStar, anticipates that rents will likely rise between 5 percent and 6 percent in 2006.
From an investor perspective, it is time to take a fresh look at multi-unit properties. With the slowdown in property sales and many investors cashing out, the hunt for investments with acceptable cap rates is now less crowded.
Some quadplex options currently on the market in Southeast Cape Coral include:
614 SE 46th Terrace
listed for $329,916;
3738 SE 9th Place
listed for $459,300 and
1307 Academy Boulevard
listed for $469,000.
703 SW 47th Terrace
is a newer two-story six unit building on a gulf access canal listed for $1,555,000.
Please drop me a
note
if you are interested in looking at rental income investment property in Southwest Florida.
Rents heading up in '06
[CNN/Money]