Cape Coral Rated One of the Safest Driving Cities
Posted by Mark Washburn on Tuesday, September 3, 2019 at 1:58:43 PM
By Mark Washburn / September 3, 2019
Comment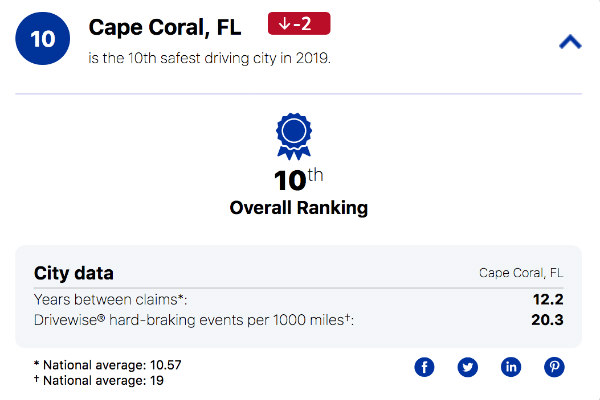 There's more good news coming out of Cape Coral, recently ranked one of the nation's safest driving cities. The 2019 Allstate America's Best Driver's Report puts Cape Coral in the number 10 spot overall.
According to city data, drivers in Cape Coral go an average of 12.2-years between traffic collision claims. That lower than the national average of about 10.5-years.
Analysts also looked at hard-braking events per 1,000 miles for those drivers voluntarily enrolled in its Allstate Drivewise program. In that particular category Cape Coral received a score of 20, slightly higher than the national average of 19.
Analysts generally found some correlation between drivers in cities with fewer property damage claims and those with fewer hard-braking events. To come up with the rankings for 2019, researchers looked at property damage claims between early 2016 and late 2017, with data attached to 200 of the nation's largest cities.
Port St Lucie came in at number 14 on the Allstate list for 2019 and Tallahassee came in at number 42. The latest ranking was a two-spot drop for Cape Coral over 2018, but the city still made a good showing.
The Cape Coral-Fort Myers area is, of course, one of the nation's fastest growing metros. The area grew in population by 22-percent between 2010 and 2018 alone.
In particular, Cape Coral city leaders are looking at more mixed-use and residential development in south Cape to handle the increasing population. There's no doubt, though, that Cape Coral already has plenty to offer its residents.
The vibrant city is home to hundreds of miles of gulf access canals, with easy access to boating, fishing and multiple opportunities for water sports. Residents and visitors are also treated to a number of golf courses, nature preserves, parks and attractions, some of which are unique to the City of Cape Coral.