Cape Coral Ranked in Top 25 Up and Coming Cities
Posted by Mark Washburn on Monday, March 15, 2021 at 9:48:11 AM
By Mark Washburn / March 15, 2021
Comment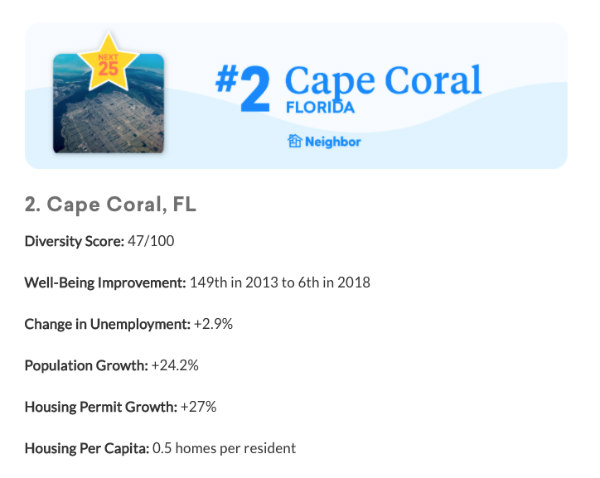 There are several great reasons to move to Cape Coral, and a new study just gave the city another big boost. The Neighbor.com website just put out its list of what it considers the most up-and-coming cities in the nation, and Cape Coral is close to the very top.
The website put Cape Coral in the number two spot of what it calls "The Neighbor Next 25". Those are the cities it says are the "next big thing".
Analysts looked at diversity, well-being, population growth and change in unemployment. They also looked at housing per capita and housing permit growth.
According to Neighbor.com, the population of Cape Coral has grown more than 24-percent over the past decade. To go along with that, it's seen a 27-percent increase in housing permits. That's seen as a good thing for helping to keep housing in the area relatively affordable.
Perhaps most impressive of all, however, was the city's ranking in terms of well-being. In 2013 the city ranked 149th.
Five years later, the city improved to number six. That's an improvement of 143 places.
The website makes note of Cape Coral's year-round sunshine and warm temperatures. It doesn't hurt either that the city is full of options when it comes to beaches, golf courses, and family-friendly entertainment.
Originally founded as a planned community, Cape Coral is regarded as one of the nation's fastest growing cities. Only around half of the city is even developed, meaning Cape Coral still has plenty of potential.
Known for its hundreds of miles of canals, it's easy to find a waterfront home in Cape Coral. This helps make it a desirable location for a boating lifestyle. Several other Florida cities also made it on the Neighbor.com list. The Tampa/St Petersburg/Clearwater area came in at number 17. North Port/Sarasota/Bradenton came in at number 21.