Cape Coral Cardboard Boat Regatta 2020
Posted by Mark Washburn on Friday, February 21, 2020 at 1:10:46 PM
By Mark Washburn / February 21, 2020
Comment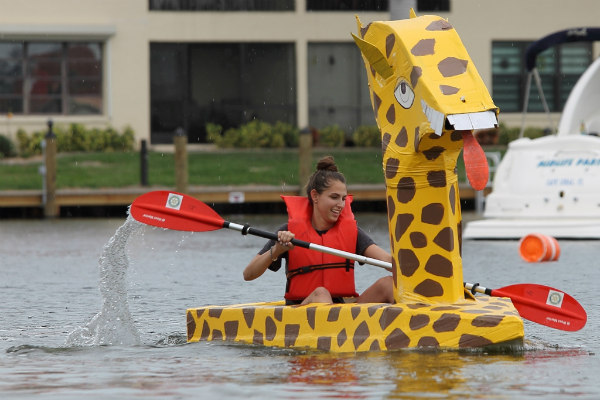 A fun, family event for about a quarter of a century, the Cape Coral Cardboard Boat Regatta is once again gearing up for its annual showing. One of the craziest events held in Cape Coral, the regatta is a race to the finish.
For some boats that's a difficult feat. After all, the boats are made out of cardboard and some of them just barely make it through the final stretch.
The boats are all truly unique, and the participants are often just as decked out as the boats. Past participants have included Viking-inspired boats, but the options are just as varied as your imagination allows.
Organizers do give some boat building tips, but the final creation is up to participants. Once out on the water, the boats zigzag their way through the racecourse.
Work groups, organizations, clubs, families and individuals can all enter. You can also race against your friends with cardboard boats supplied by the Cape Coral Rotary Club.
First planned as a fun event for a local boat club, the Cardboard Boat Regatta has grown into a much larger event that commonly draws in hundreds, if not thousands of spectators. This year's regatta is set for April 18 at Seahawk Park in Cape Coral.
The event begins in the morning with judging and goes through mid-afternoon. There's also an awards ceremony, including handing out the coveted People's Choice Awards.
It's free to attend but donations are being accepted for parking. Organizers suggest bringing along a lawn chair, hat and sunscreen.
If you're not interested in getting out on the water yourself, never fear. There's plenty of fun planned for those on dry land.
Expect to find crafts, food and other things for sale during the regatta. There will also be inflatables and a children's playground to entertain the younger crowd.