Buyer Tip - Lee County Property Line
Posted by Mark Washburn on Friday, August 15, 2008 at 2:33 AM
By Mark Washburn / August 15, 2008
Comment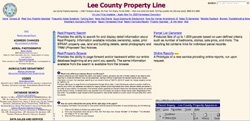 We have a great resource here in Lee County to help arm buyers with as much information as possible about a property. This resource is the
Lee County Property Line
, which is managed by the County Property Assessor. The url for this site is easy to remember: www.leepa.org. I frequently use this site to get more information about a property. Available information that I find useful includes:
prior selling price(s)
prior selling date(s)
annual taxes
tax estimator
assessed value
photo
aerial photo
To access this information select ==> Database Search ==> Real Property Search ==> Enter property address. Remember to use the proper suffix abbreviations (
ST, LN, BLVD, TER, AVE, DR)
for the street name. Good luck and happy hunting!