Bright lights, big city
Posted by Mark Washburn on Saturday, September 10, 2005 at 2:10 AM
By Mark Washburn / September 10, 2005
Comment
New SW Florida Airport dazzles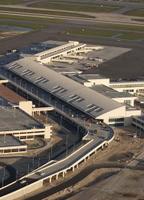 Wow, I am writing today from the new
Southwest Florida International Airport
. When I booked this flight last month, I had no idea that I was going to be one of the first passengers to use the new airport. I literally had to do a double take after so many flights through the dingy old terminal, this place is big-time. It reminds me of the new terminal at
Ronald Reagan Washington National Airport
........big, bright and airy.
The parking and rental car facilities are located in a huge garage connected to the terminals, a significant improvement over the previous arrangement. Like the old terminal, there is a Chili's outside of security. The big change here is many dining choices inside of security, no more stale sandwiches from the beer kiosk.
My Jetblue flight is departing from Terminal D, which has plenty of very comfortable leather chairs to accommodate every waiting passenger. The free WiFi that was so helpful at the old terminal is not presently operating, hopefully this will be turned on in the near future.
Can a new airport significantly impact the economy of an area like SW Florida? While I really don't know the answer to this question, I do know that significant growth has occurred in other cities around new airports. A couple examples that come to mind are the extensive development around Dulles Airport in Northern Virginia and DFW in Dallas, two airports that when they were built, were very remote.
I believe that commercial property in close proximity to the airport is about as sure a thing as any real estate in SW Florida. It just seems that an explosion of development is just around the corner for the entire corridor along I-75 in the vicinity of the airport. It is time to step up and find my piece of the action in this booming part of town.
Transition from old to new goes smoothly [News-Press]