Bonita Springs Unveils New $14M Library
Posted by Mark Washburn on Wednesday, September 11, 2019 at 7:03:57 AM
By Mark Washburn / September 11, 2019
Comment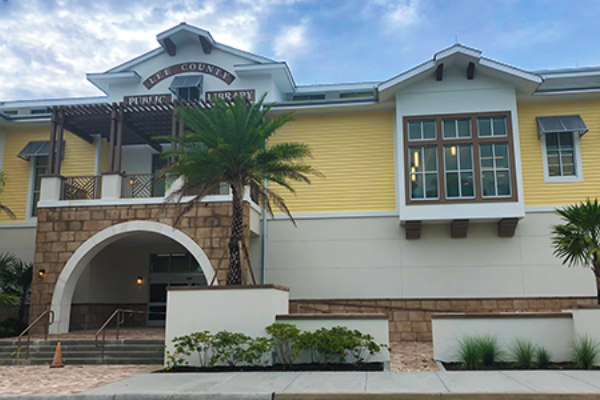 A brand-new, multi-million-dollar library just opened its doors in Bonita Springs, much to the delight of local residents. The massive new building sits right in Downtown Bonita Springs and is said to have been designed to appeal to those of all ages.
Located on Reynolds Street, between Shriver and Felts avenues, the new library is so large it takes up an entire city block. The two-story building is said to have room for a 25-percent larger collection of library materials than the old library.
That reportedly amounts to more than 70,000 items in the new Bonita Springs library alone. Its collection includes print materials, CDs, DVDS and other forms of media.
The 31,000 square foot library has reading decks overlooking its courtyard, plus study rooms and conference rooms. In addition, it offers adult book discussions and an English Café for non-native speakers.
Kids aren't left out, either. The library features traditional craft and storytime sessions, while teens are treated to technology-rich programs including robotics and basic computer coding. Users are additionally treated to more than 50 computers in the new building.
The new library is open every day of the week but Sunday. Its location also makes it easy to walk to a number of other downtown attractions from the site.
While the old library building is now empty, it could potentially serve a different purpose in the future. So far, county officials have not yet announced what that might be.
Construction first began on the new Bonita Springs library in early 2018, and just wrapped up when the library officially opened its doors in late August. The Lee County library system also recently opened up a new library building in North Fort Myers.
Together, the two libraries cost an estimated $27 million. Local leaders reportedly funded construction of the new libraries through the use of existing library funds.