Big John Watches Over Cape Coral
Posted by Mark Washburn on Friday, July 27, 2018 at 7:05:12 AM
By Mark Washburn / July 27, 2018
Comment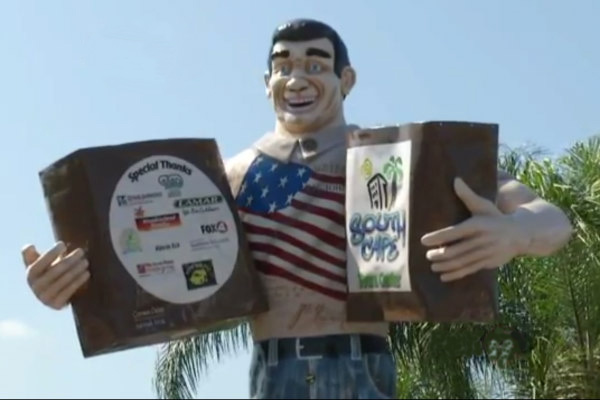 It's likely not the biggest draw for visitors to come to Cape Coral, but it's certainly a visible and long-standing tradition. A landmark of the area for nearly a half-century,
Big John
certainly serves its purpose, overlooking Cape Coral. The giant statue has stood in a downtown shopping center parking lot for decades, originally earmarked as a way for grocery store owners to draw more attention to their location. While the old Big John Supermarket is long gone from the area, Big John the statue stands the test of time. The 28-foot tall statue weighs in at a whopping 6,000 pounds, constructed of steel-reinforced fiberglass. In fact, it's said that Big John can withstand up to 90 mile per hour winds. The giant statue no longer holds grocery bags as he once did, plus he's been painted over several times. Still, though, he stands as a non-official symbol of
Cape Coral
. While nearly everything surrounding Big John has changed and evolved over the years, the statue stays relatively the same. Big John's also a fixture in a number of books written about the area and even featured in the Cape Coral Historical Museum. He's also played a part in city celebrations. More importantly, though, Big John stands as an example of the growing population of Cape Coral. Marking the opening of the first full supermarket in the area, the store and the statue represented a growing community, capable of supporting new types of business and growing into its own. While the recipient of an annual power wash and some recent repair work, Big John continues to stand relatively undisturbed, a large and visible symbol of growth and prosperity, consistently watching over the residents and the businesses of Downtown Cape Coral for decades now, and likely for even more decades to come.