Babcock Ranch Showcases Driverless Shuttles
Posted by Mark Washburn on Monday, October 30, 2017 at 9:56:20 PM
By Mark Washburn / October 30, 2017
Comment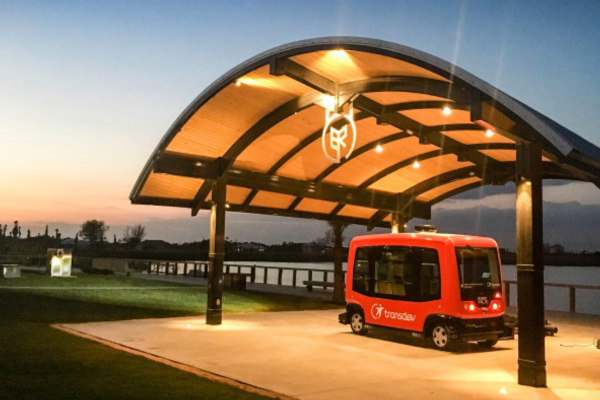 A new community, that's quickly gaining a reputation as a leader in environmentally sustainable design principles, is about to take it up another notch by adding driverless shuttles to its outstanding array of amenities.
The first shuttles should hit the roads of Babcock Ranch by the end of next month, bringing yet another option to the world's first solar-powered town. Already under design as a walk-able, bike-able town, Babcock Ranch will soon add the autonomous shuttles to the mix for transporting people from Founder's Square to some of the community's first model homes.
It's expected that the shuttles will take on new routes as the town continues to grow, eventually incorporating them into on-demand shuttles for the expected 50,000 people that will call the community home.
The idea is to either eliminate, or at least greatly reduce, the need for vehicles in Babcock Ranch, with future possibilities also including bike and car sharing. The larger plan includes having dozens of these vehicles in operation in the near future, and expanding that to around 400 automated vehicles in Babcock Ranch by the year 2021.
The eco-friendly town aims to someday include more than 19,000 homes and millions of square feet of commercial space. The shuttles are just one part of the picture when it comes to the town's environmentally friendly design.
The community incorporates solar panels into the homes and buildings of Babcock Ranch, generating enough power for the entire community. Only a handful of select builders are constructing homes within the sustainable town too, with work currently underway on the first neighborhood, Lake Timber.
The town's first restaurant, Table & Tap, is already open, as well, and the Babcock Neighborhood School opened its doors just this fall. The larger development aims to incorporate an array of homes, businesses, community gardens and recreational space into one self-contained, solar-powered town, all with an emphasis on the environment and the enjoyment of shared natural spaces.
Search Babcock Ranch Neighborhoods