Babcock Neighborhood School Opens
Posted by Mark Washburn on Friday, August 24, 2018 at 1:44:40 PM
By Mark Washburn / August 24, 2018
Comment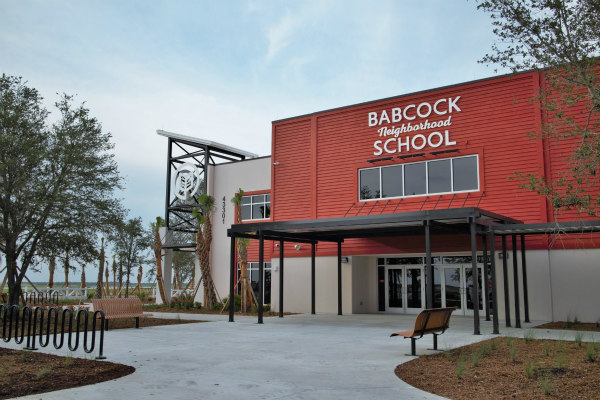 Just in time for back to school, Babcock Ranch opens the doors to a second new school building. Dignitaries including former Governor Jeb Bush were on hand for the official opening, just days before more than 300 students came through the new building's doors.
The new structure makes room for grades kindergarten through eighth, and is nearly four times larger than the neighborhood's first school building. The opening comes at a good time too, as the Babcock Neighborhood School more than doubled its enrollment for 2018, causing students to outgrow the first school building in just its first year of being open.
The original charter school building housed grades kindergarten through sixth grade while the new building now goes through seventh grade. Eighth grade will be added in next school year, while a new high school is also in the community's future plans.
The new building includes more than two-dozen classrooms, plus even more staff members and teachers. The original Babcock Neighborhood School was already filled with a number of modern conveniences, from touch screen monitors and interactive smart boards to computer labs.
The school incorporates "greenSTEAM" education, focusing on the environment, along with science, technology, engineering, plus the arts and mathematics, coined "STEAM", for short. The lesson plans fit in with the surrounding neighborhood well, as Babcock Ranch has a true focus on renewable energy as a community, with a solar farm and green-certified buildings.
Known as the nation's first solar-powered town, Babcock Ranch provides plenty of on-site opportunities for its students, including hands-on learning about renewable energy, health and nature. It's said former Governor Jeb Bush was a proponent of the community from the start, helping the developer secure the land needed to build Babcock Ranch, plus serving on an advisory board credited with advocating for the charter school and its unique curriculum.
Search Babcock Ranch Neighborhoods