Airport centric real estate
Posted by Mark Washburn on Saturday, March 4, 2006 at 2:24 PM
By Mark Washburn / March 4, 2006
Comment
Airport adjacent locations booming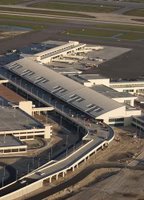 One of the hottest national trends in commercial real estate is development around airports. It used to seem that many airports were located way to far from downtown for any meaningful development beyond airport use. That perception is changing all across the country on a grand scale.
Today airports are serving as the major anchor to entire new communities. Here in SW Florida, the potential for growth around RSW seems almost unlimited. A whole new class of office space is on the way around the airport and will continue to shift the "economic center" of our region eastward.
The new residential communities that are sprouting up close to the airport including locations along Tree Line Avenue and Alico Road will require amenities and services in this area. Many of these projects are high-end and will contribute to an eastward shifting of our economic center. The smart play today is finding a parcel in this area to invest in, development and appreciating values around RSW are inevitable.
Why Airport Location No Longer Tarnishes A Property's Appeal
[Investor Business Daily]